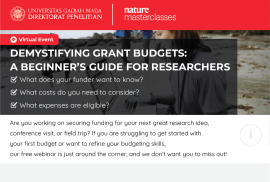 Are you working on securing funding for your next great research idea, conference visit, or field trip? If you are struggling to get started with your first budget or want to refine your budgeting skills, our free webinar is just around the corner, and we don't want you to miss out!
Here are some of the questions we'll explore during the webinar:
What does your funder want to know?
What costs do you need to consider?
What expenses are eligible?
The webinar will be presented by Riana Coetsee, a research management and training consultant, specialising in skills development of early career researchers and grant writing support of researchers at all levels.
Join us for "Demystifying Grant Budgets: A Beginner's Guide for Researchers" on a day and time that is convenient for you. Please note that seats on the day will be limited.
Day 1, June 14th, 2023 (14:00 – 15:00 WIB) Register
Day 2, Jun3 15th, 2023 (23:00 – 00:00 WIB) Register