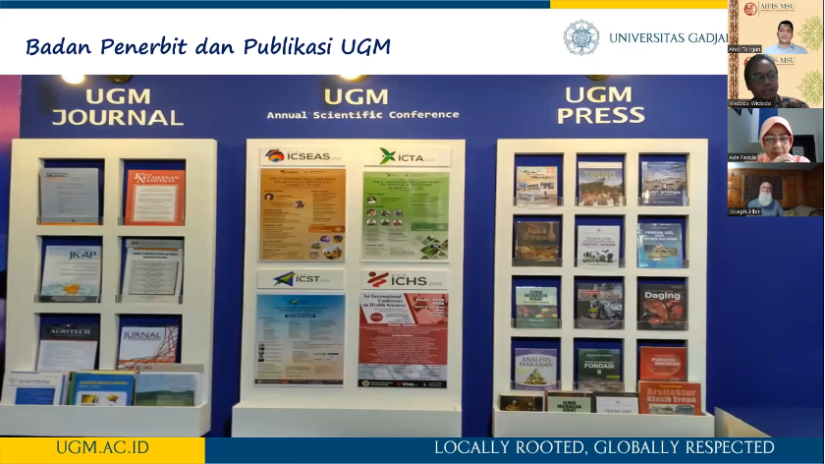 UGM Publishing and Publication Agency as a working unit at UGM that manages UGM Press as a national and international academic publisher, has the honor of being one of three publishers in Indonesia invited to be a resource person at the American Institute for Indonesian Studies-Michigan State University Conference on Indonesian Studies on current trends in Indonesian Publishing. Head of UGM Publishing and Publication Agency (BPP), Prof. Widodo, Ph.D., was a guest speaker at the virtual event held by Michigan State University Libraries and Library of Congress Field Office in Jakarta on June 22, 2022. Besides UGM Press, Gramedia and Mizan were also invited.
This event discussed the development of publishing in Indonesia before and after the Covid-19 pandemic with speakers from three publishing institutions with different criteria. UGM Press is representative of academic publishers, Gramedia is representative of general book publishers, and Mizan is the publisher of religious books. The challenges and strategies for publishing books in a new culture after the Covid-19 pandemic became an interesting topic of discussion. Not only in Indonesia, the Covid-19 pandemic that has hit all over the world also has affected consumer patterns and habits. Before the pandemic, consumers bought books physically at bookstores. However, since the pandemic, many bookstores have been unable to run their operations due to social regulations and declining purchasing power. As a result, publishers must look for new strategies or conduct business transformations to deal with changing consumer habits who shop through online marketplaces or in the form of e-books.
The spirit of publishing books may be hindered in academic books because research activities are also not as extensive as before the pandemic. Apart from this, there has been a decline in the purchasing power of printed books that have already been conventionally distributed. However, this was answered by Prof. Widodo, Ph.D., as a new challenge in adapting to various changes. Although the Covid-19 pandemic has not ended, the enthusiasm for publishing academic books at UGM Press is still increasing. The marketing strategy is also directed toward e-commerce which has become the best option for buying and selling transactions during the pandemic.
On this occasion, Prof. Widodo, Ph.D., also said that in facing the challenges of publishing, UGM Press would increase digital publishing and digital marketing by increasing book publications in the form of e-books and promotion through online marketplaces. With this, it is hoped that the distribution of UGM Press publications will be wider nationally and internationally. In addition, UGM Press will continue to increase opportunities to collaborate with international publishers, such as the collaboration with Springer that has previously been done. Muster it, UGM Press hopes to collaborate with other international publishers such as Elsevier and Emerald. This is possible considering that UGM Press has books on social science issues in Indonesia that are quite popular internationally.